Photo Booth Hire Is More Than Just Entertainment
One of the best things after a wedding is looking through the photographs that were taken by guests at the reception. The chances are though, that unless you go round everyone who attended, you'll only see a few of the snaps they took. As well as photos, the happy couple often get a memento from guests after the reception, such as a book with well-wishes and congratulations written in it.
What if you could combine these things, and in a way that can be shared by everyone? Organise a photo booth hire for your wedding from Petite Booth and you'll do just that.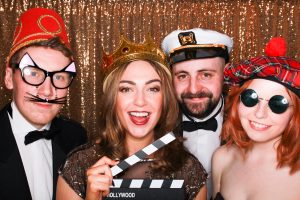 Having a booth at your wedding is an easy process, as the hire company sets everything up for you and looks after the booth during the evening. You'll find that a photo booth at the reception is a big draw for your guests, with most eager to participate. It's fun, it's informal and it's something that bride & groom and guests alike can share and enjoy.
Because a photo booth is there for much of the reception – normally four hours – guests can pop in and out of it all evening, going in pairs or groups to have a laugh. The merriment's helped along with silly props like wigs, hats and fake moustaches!
As in all photo booths, once the pics are taken a photo strip is produced for the participants to keep. The clever part is that the photos are later given to the bride & groom as well. As a rule, the photos can be placed onto a cd, put online within the hire company's website, or posted to Facebook. That means that almost everyone who was at the wedding can share memories of the occasion. And those who had to miss it can enjoy viewing the photos as well.
So what about that combination mentioned earlier? A good photo booth hire company will provide a guest book where selected photos are inserted, along with a handwritten message from the guests in the pictures. Every newly-wed couple wants to know that their guests had a good time at the wedding, so what better way to let them see that?
Hiring a photo booth for your wedding will provide fun, laughter and entertainment for your guests. More importantly, it will give you a keepsake of the day unlike anything else. There's nothing to beat great memories – and these are memories you can revisit whenever you want!
Leave a Comment